Um 6 Uhr geht der Wecker, da wir die erste Fähre des Tages bekommen müssen und so sind wir früh unterwegs in Richtung Südinsel Neuseelands. Die ca. 3-stündige Fährüberfahrt von Wellington nach Picton ist echt schön und die ersten Eindrücke der Südinsel erinnern an Norwegische Fjorde, nur die schneebedeckten Berge im Hintergrund fehlen, aber die sollen noch kommen.
Auch an Bord ist Schule angesagt…
Bei unserer ersten Unterkunft verbinden wir Übernachtung und Weinreisestopp und stehen auf dem Anwesen von Bladen Wines. Tasting und eine Flasche Wein sind in der Übernachtungsrate inklusive. Der Sohn des Weinguts schenkt selbst aus und ist etwas unruhig, da er am Abend auf einer Preisverleihung zum Personality of he Year (oder so) nominiert ist – und tatsächlich auch gewonnen hat, wie wir am nächsten Tag erfahren.

Die Route auf der Südinsel machen wir stark vom Wetter abhängig. Das bedeutet, dass wir immer wieder umplanen und Alternativen überlegen. So stellen wir (vorläufig, wie zunächst gedacht) den Abel Tasman Nationalpark hinten an, da es dort wie an der gesamten Westküste wie aus Kübeln schüttet. Stattdessen ist unser nächster Stopp Kaikoura an der Ostküste – Katinkas Lieblingsort von vor 21 Jahren. Die Strecke nördlich und südlich der Stadt, die für Wal- und Delphinbeobachtungen berühmt ist, verläuft direkt an der spektakulären Küste und wird zu unserer nächsten "Traumstraße der Welt" (Nummer 4 nach Kanada, Hawaii und Australien).
Auch wenn sich der kleine Ort nicht zu seinem Vorteil entwickelt hat, beeindruckt er immer noch durch die besondere Lage: wilder schwarzer Strand vor schneebedeckten Berggipfeln.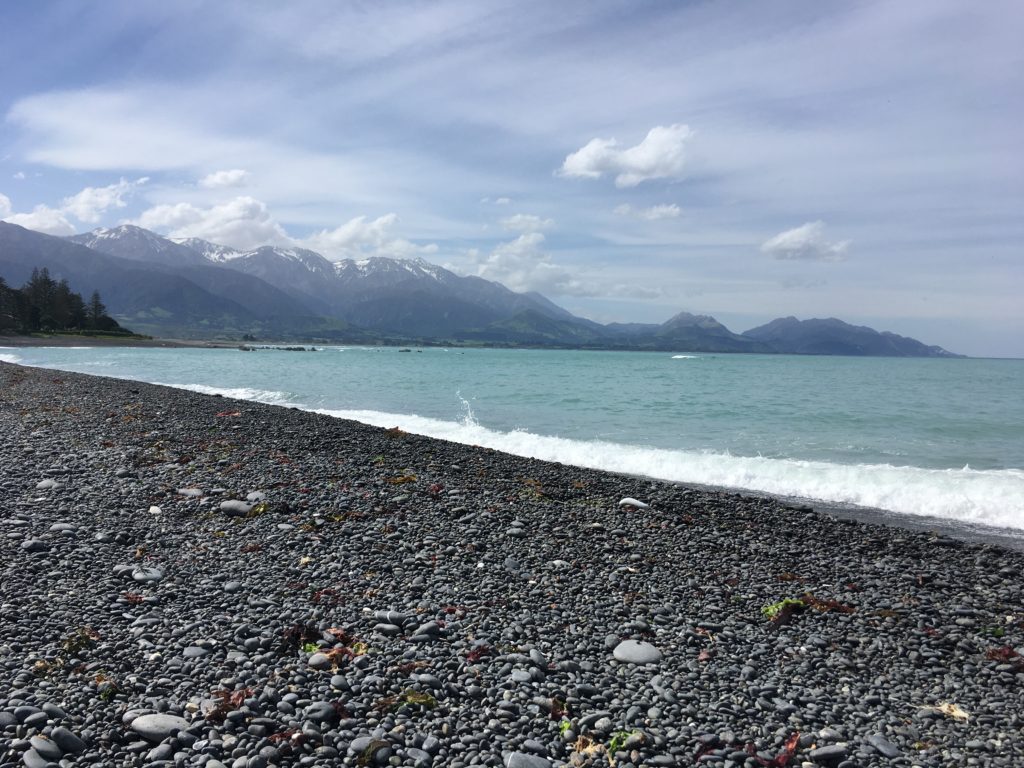 Unser Highlight ist das Schnorcheln mit Delphinen, die zu Hunderten unseren Weg kreuzen. Im ziemlich frischen Wasser haben wir die Chance, diese besonderen Tiere in ihrem Element zu begegnen. Besonders die Mütter mit ihren Kälbern hinterlassen einen bleibenden Eindruck und ein Dauerginsen in unserem Gesicht.
Es ging früh los,

aber es hat sich gelohnt.

Danach zum Aufwärmen: Kakao!
Nach einem letzten Trainingslauf und einem feisten Hummeressen am Straßenrand geht es weiter an der Küste in den Süden.
Next major stop: Christchurch. Die Stadt ist immer noch stark von zwei Erdbeben in den Jahren 2011 und 2012 geprägt, bei denen fast 80% der Innenstadt zerstört wurden. Die Wunden sind überall noch präsent, aber es ist beeindruckend, welch Aufbruchstimmung in der Stadt herrscht.
Im Zentrum überall Spuren, …

… doch ständig werden neue Gebäude gebaut!
Bitte unbedingt folgenden Erklärung lesen… Typisch Kiwis!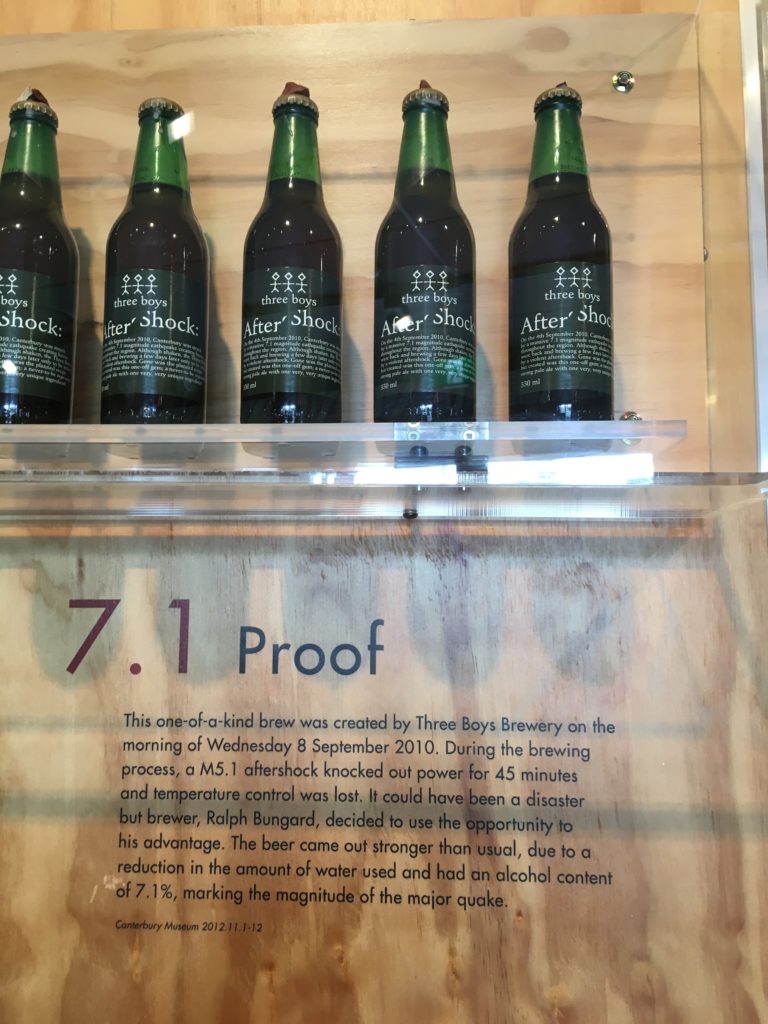 Durch einen Tipp von Iain (Doktorand bei VW und Kiwi) steuern wir für die nächsten Tage Lake Pukaki im Innenland an und werden mit fantastischem Wetter und Ausblick auf den höchsten Berg Neuseelands, dem Aoraki / Mount Cook belohnt.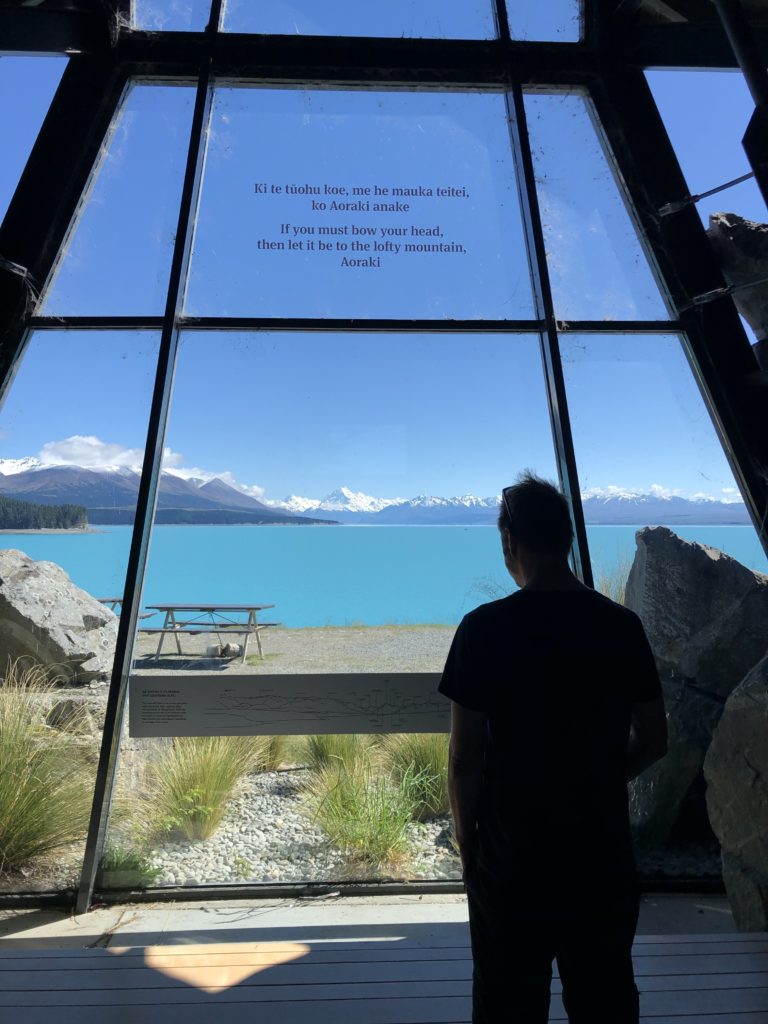 Doch der Ausblick reicht uns nicht: auf einem Tagestrip geht es in den Mount Cook National Park und wir erleben einen unvergesslichen Tag in den Neuseeländischen Alpen. Ein Zwischenstopp dorthin ist die höchstgelegene Lachsstation der Welt, wo wir mit Sashimi, Räucherlachs und Lachsfilet für die abendliche Lachs-Sahne-Pasta auch das komplette Angebot erstehen. Außer uns sind hier Massen an Japanern, die sich das Angebot natürlich auch nicht entgehen lassen können.

Die nächsten Tage versprechen zwar kein gutes Wetter, aber im Terminplan steht der Queenstown Run, so dass wir uns hierhin aufmachen und für zwei Tage einen Stopover in Wanaka planen. Doch dann kommt alles anders…
Statt beim Halbmarathon zu starten, muss Katinka Ausdauer im Krankenhaus in Dunedin beweisen. Nachdem die Ärztin in Wanaka die ziemlich heftigen Bauchschmerzen nicht abschließend untersuchen konnte (kein Ultraschall) geht es holterdiepolter ins Krankenhaus – fast 4h Fahrt am Freitagabend. Damit sitzen die Czymmeks in Dunedin auf dem Campingplatz und Katinka im Krankenhausbett fest. Zum Glück werden die Schmerzen weniger und nach dem Schallen steht fest, dass keine OP nötig ist.
Da wir die Fähre für den 21. bereits gebucht haben, heißt es: in den nächsten Tagen werden Kilometer gemacht. Wir starten aber erst einmal mit der steilsten Straße der Welt, die es echt in sich hat. Auf dem Weg nach oben lernen wir Karina und Martin aus Buenos Aires kennen und als wir erwähnen, dass wir im Januar für zwei Nächte dort sind, werden wir direkt zu einem Argentinischen BBQ zu ihnen nach Hause eingeladen – schnell die Telefonnummern ausgetauscht und schon haben wir ein Date für den 23. Januar 2020.
Oamaru mit seinem wirklich sehenswerten viktorianischen Altstadtviertel ist unser nächster Stopp und wir lernen den Steampunk kennen, so dass Full Steam Space Machine von Royal Republic seinen Platz auf unserer Weltreiseplaylist findet. Auch die Moeraki Boulders entschädigen für die ungeplante Route…
Da sich dann doch noch ein wettertechnisch passendes Fenster für die Westcoast bietet, machen wir nochmals einen "kleinen" Abstecher und düsen über den Arthurs-Pass (leider bei echt miesem Wetter) in Richtung Greymouth, wo wir einen tollen Campground direkt am Meer haben.
In der Nähe gibt es die teilweise original erhaltene Goldrausch-Siedlung "Shanty Town", wo erfreulicherweise sehr wenig los ist und wir in Ruhe in das Leben des 19. Jahrhundert eintauchen können. Es gibt sogar die Möglichkeit selbst Gold zu schürfen uns so werden unsere Lüdden zu wahren Goldkindern.
Weiter geht's entlang der Westküste nach Norden über die Great Coast Road, die sich locker mit der Great Ocean Road in Australien messen kann.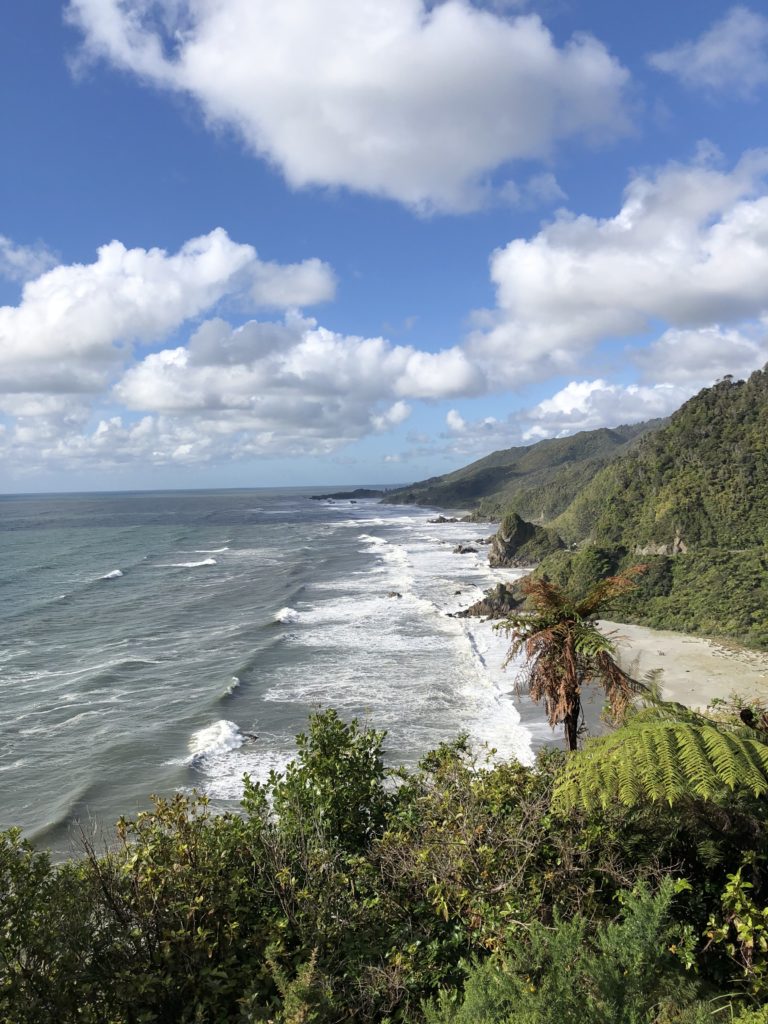 Highlight hier sind die Pancake Rocks, Felsen, die wie übereinandergeschichtete Pfannkuchen aussehen und Dank der immer noch wilden See, sind die Blowholes ebenfalls sehr beeindruckend.
Auf dem Weg zurück fahren wir am Buller-River entlang, ebenfalls eine sehr schöne aber teilweise auch echt anspruchsvolle Strecke. Kurz vor der Fähre durchqueren wir dann nochmals das langgezogene Malborough-Sound-Weintal und passieren km-lang ein Weingut nach dem anderen. Auch die Fährfahrt zurück beschert uns Dank tollem Wetter und ruhiger See eine schöne Tour.
Am letzten Tag düsen wir die Nordinsel hoch zurück nach Auckland, wo wir noch das von Mareike mitgebrachte Päckchen in Empfang nehmen können (einen fetten Dank an Anja und Mareike!!). Wir bekommen damit doch noch etwas von der "City of Sails" mit, genießen ein leckeres Seafood-Dinner direkt an der Marina, an der wir übernachten und einen entspannten Morgen im Hafenviertel.
Katinka und ich sind uns einige: Auckland ist eine Stadt mit unheimlich hoher Lebensqualität und dann verträumen wir den einen oder anderen Gedanken ans Auswandern…